Himiway Cobra Pro is tailor-made for off-road enthusiasts. It is equipped with the Bafang mid-drive motor, which is considered one of the leading manufacturers of electronic drive systems. A 1300W of peak motor power will lead you conquer the roughest venture. A four-bar link suspension system with a four-sided polygon design promotes superior vibration absorption. As the first middle-class e-bike on the U.S. market with four-bar linkage suspension, Himiway Cobra Pro keeps you safe and give you the best riding experience on your toughest exploration.
Himiway's high-end mid-drive motor perfectly maintains the front and rear balance without affecting its exceptional vibration absorption performance. The torque-sensing mid-motor provides massive amounts of torque when powering up steep hills or accelerating quickly from a dead stop. With 1300W of peak motor power, you can easily conquer the most rugged terrains.
Backlight display provides the information of speed, mileage, power, etc.
A fuel gauge for your electrons.
Calculate how many miles you have ridden
Pedal assistance power adjustment.
Can be set to current speed, max speed, or average speed.
It can charge your dying cell phone.
Displays motor power output in real-time.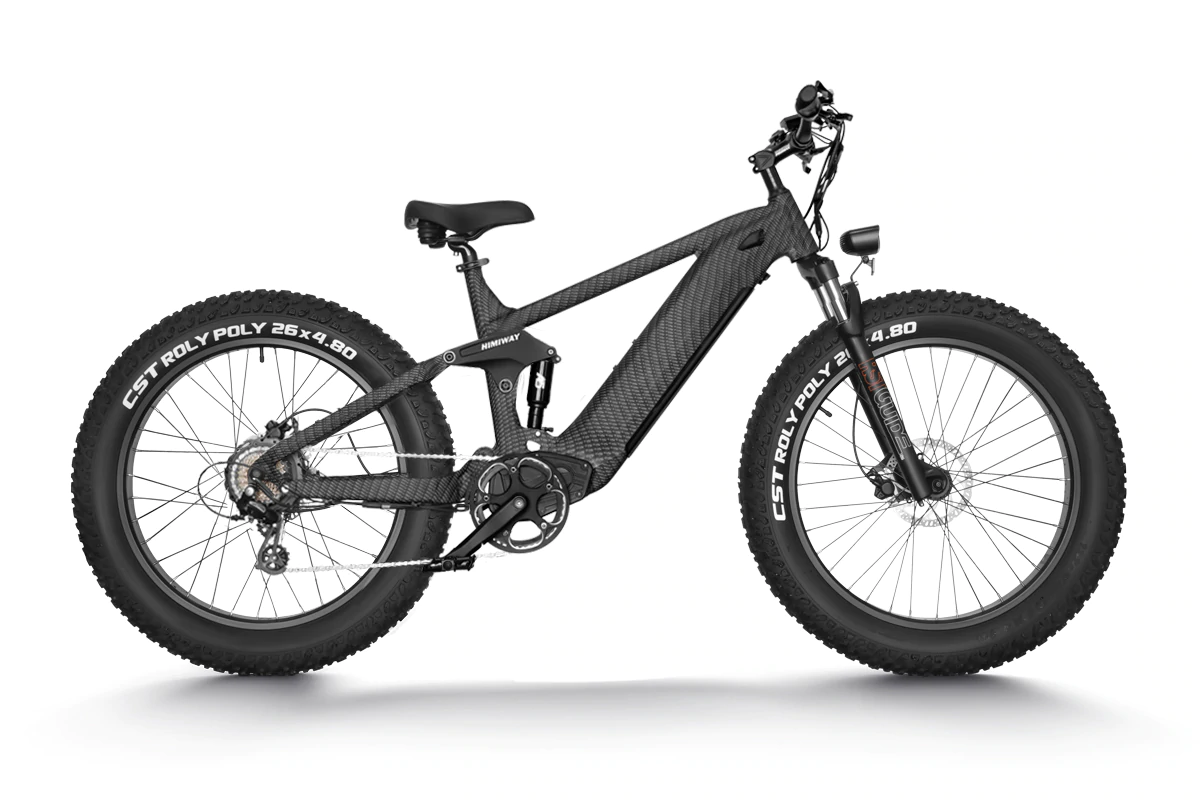 Four-Bar Linkage Suspension & Coil Suspension
Himiway Cobra is the first e-bike on the U.S. market with four-bar linkage suspension technology. The four-bar linkage represents a four-sided polygon: the chain stay, seat stay, rocker, and seat tube. These specialize in absorbing both rear-upward force and vibrations, while the coil suspension ensures front stability. Both suspensions guarantee your safety in the toughest riding conditions
Updated 6061 Aluminum Frame & Fully Integrated Battery Design
Himiway uses high-quality 6061 aluminum for the frame to give the bike unparalleled durability. Its reserved fork accommodates wider tires, which allow you to upgrade to 4.8-inch tires. The integrated design protects from inclement weather, eliminating up to 98% of common mechanical failures.
48V 20AH Samsung/LG Lithium-ion Battery
Himiway Zebra combines the new Samsung/LG battery technology with a 5000mAh single cell capacity in a smaller size but larger diversity. Compared with 3500mAh cells made of nickel, cobalt and manganese, this 960Wh battery efficiently improves the range, stability and safety of Himiway bikes. A single charge can last up to 60 miles on pure electric power and over 80+ miles with pedal-assist. The battery will maintain 80% capacity after 1000 charges.
5000mAh
Single Cell Capacity
960 Wh
Total Battery Capacity
7 hours
Time Until Fully Charge